Are Habits That Don't Serve You Holding You Back?
Tuesday, June 19, 2018
6:00 p.m. – 8:30 p.m.
Sturbridge, MA
Negative thinking patterns can limit the quality of life you desire.
Learn how to transcend those limitations to achieve your goals and get to that next level in your life. (READ MORE)
"Opened my eyes for my future projects. Very interesting and informative." Joan Campanale, Attendee, Habitudes 2.0 Workshop, April 2018
"I thoroughly enjoyed this workshop and highly recommend it to anyone feeling stuck or ready to make changes in their life. . . . The genuineness of presentation; [Rita's] passion and energy is inspiring." Kristina LeDuc, attendee, Change Your Habitudes, Change Your Life Workshop, October 2017

Need an inspiring and motivating speaker for your next event?
"Rita came out and spoke to a group of clients at our Spring Friends and Family Night for our Financial Advisory Firm. She was funny, engaging, and enthusiastic. Every one of the 30 plus clients in attendance made an effort to thank us for bringing in Rita to share her thoughts and her story. This thanks from our clients was the greatest compliment we could receive. We couldn't have been happier to have her in front of our best clients to help bring immense value to our practice." ~ Joshua Farmer, Brookstone Wealth Management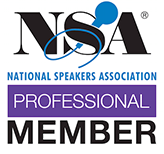 With Rita as your keynote speaker, your audience leaves energized, entertained, educated, and alive with possibilities. Rita appeals to a wide variety of audiences, delivering results-driven information and insights drawn from her experiences as a resilience strategist, professor, and business owner.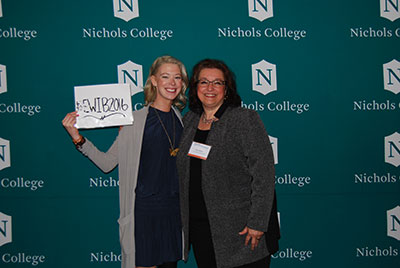 "
Rita, the Empowering Women in Business Conference committee would like to thank you for presenting at [this year's] conference. Your willingness to share your expertise with other women truly fits into our mission of providing 'women with the dynamic opportunity to advance their career, grow their business, or help map their future by pursuing professional development within a welcoming environment of career-focused women leaders.' Thank you for being one of those "career-focused women leaders."
(Photo Rita with Adrianne Hastet-Davis)
What People Are Saying About Rita!
"Rita Schiano brings so much more than a lecture or speech to her audiences. Dress for Success Worcester refers back to Rita again and again when in need of a volunteer speaker not only for her diverse subject matter but because of what she brings to each address. Rita knows her audience, engages her audience and time after time leaves her audience feeling empowered, confident and ready to flourish! Our clients pack the room when they hear Rita is going to speak. We at Dress for Success Worcester are honored every time Rita says "Yes! I will speak at your engagement." We can't say enough great things about what Rita has done for our clients and the staff at Dress for Success Worcester."
~ Veronica Hachey, Program Director, Dress for Success Worcester
"Last week we had Rita Schiano present "Living a Less Stressful, More Fruitful Life." Rita is the author of "Live a Flourishing Life," and "Painting the Invisible Man." She has been a successful motivational speaker and community activist for many years. We had a small audience, and Rita was very personal with advice on reducing and handling stress. She was friendly, completely prepared, and the audience responded quite well to her message. I am highly recommending her to all libraries."
~ Deborah Shields, Lunenburg Public Library
""Rita Schiano is a fabulous speaker! She is dynamic, passionate, fun and very engaging. Her direct delivery of information is refreshing- the audience was very focused and several parents were taking notes! I could have listened to her speak for hours!! Rita has a way of making people comfortable and giving them the confidence to share and ask questions. Everyone came away with tips to try at home to promote positive changes and to build resiliency in ourselves and our children. We are hoping to invite her to return for another parent program soon! ""
~ Lisa Meunier RN, M.Ed, Burgess Elementary School Nurse
"On behalf of Suzanne and myself, thank you immensely for a great session last weekend at the Family Leadership Training Institute. Our participants got so much out of your presentation. And, I must say, we love the hearty laughs you inspire and the wonderful style you share with us. It was great!" "
~ Linda Freeman, Executive Office of Health and Human Services, Commonwealth of Massachusetts
"Hi Rita ... Just a quick note to thank you for presenting to our membership yesterday. Your Keynote presentation was well received by all in attendance; you hit upon some critical issues impacting our membership and provided them with practical and useful information on how to appropriately address the multiple facets of being a successful leader and how to develop a successful leadership team. On behalf of the ASE Executive Director, Carla Jentz, our Executive Board President, Julianna Hanscom and the Executive Board of the MA Administrators for Special Education, thank you for doing such a great job yesterday. We hope that we can work together again in the future."
~ Dr. Ed Nazzaro, Special Project Consultant MA Administrators of Special Education
""Rita is a gifted speaker with a heart for helping others in their growth process. Her focus on personal fulfillment as a worthwhile goal is refreshing." "
~ Laurie Nelson, Attendee (Change Your Habitudes 2.0 Workshop, April 2018)
Stay Informed
Strategic Personal Coaching

"Rita's strategic coaching helped me to identify areas of improvement and develop my own personalized plan for resilience in my life."
As a resilience strategist and coach, I provide new perspectives and recommend strategies for people looking to make changes in their personal or professional life.
Strategic personal coaching is customized specifically to your most important goals, interests, challenges, and needs. The goal of private sessions is to offer insight and assistance that will guide you towards actionable, positive changes that will affect all areas of your life. Learn more...
To Schedule an Introductory Coaching Appointment call 774-230-5670 or e-mail Rita. Rita received her Strategic Intervention Coaching Certificate from Robbins-Madanes. Sessions held in-person or online/video.
Upcoming Programs and Workshops
April 10: Change Your Habitudes 2.0; 6:00 -8:30 p.m., Sturbridge, MA (Learn more and register)
May 22: Featured Speaker: "Is Stress Getting the Best of You?" 12:00 p.m. Chamber of Central Mass South, Sturbridge, MA
May 29: Featured Speaker: "The 7 Habits of Highly Ineffective People (Part 1 of 3-part Series)" 7:00 a.m. - 8:30 a.m., Quaboag Valley Referral Group, Three Rivers, MA
June 21: Featured Speaker: "Effective Business Writing." American Society of Quality (ASQ), Oxford, MA 5:45 p.m.
Self-paced Online Programs
"If Only There Were Twenty-Five Hours In A Day . . . " Time Management
Resilience: The Key to Retirement Well-being
Get it Done! - A Six-Week, One-On-One Program
The Blog
Unless you knew me when I was very a young girl, you might be surprised to learn I was quite the worrier. My mother used to say, "You're such a Worrywart, Rita." And the tag fit. I was a worrywart. I did tend to dwell unduly on perceived difficulties in my life that developed a pattern (habitude) of troubled emotions and thought patterns.
Then one day I saw a book on my mother's nightstand entitled Psycho-Cyberneticsby Maxwell Maltz. The book was a gift to her from ...
read full post
Did you know . . .
Rita is a Certified Wedding Officiant? Rita supports marriage equality and honors all religious, spiritual and secular backgrounds. Contact Rita
Rita quoted on Today with Kathie Lee and Hoda!

Hear my interview with Stephen Woessner on Onward Nation. Click to go to podcast!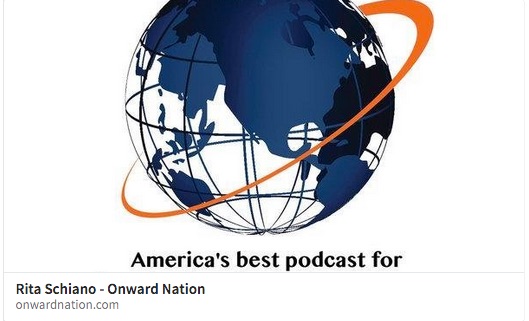 Snippets
Give the gift of a Flourishing Life! Gift Certificates for Rita's strategic life coaching / mentoring, workshops, books available here exclusively!