Testimonials
What People Are Saying About Rita . . .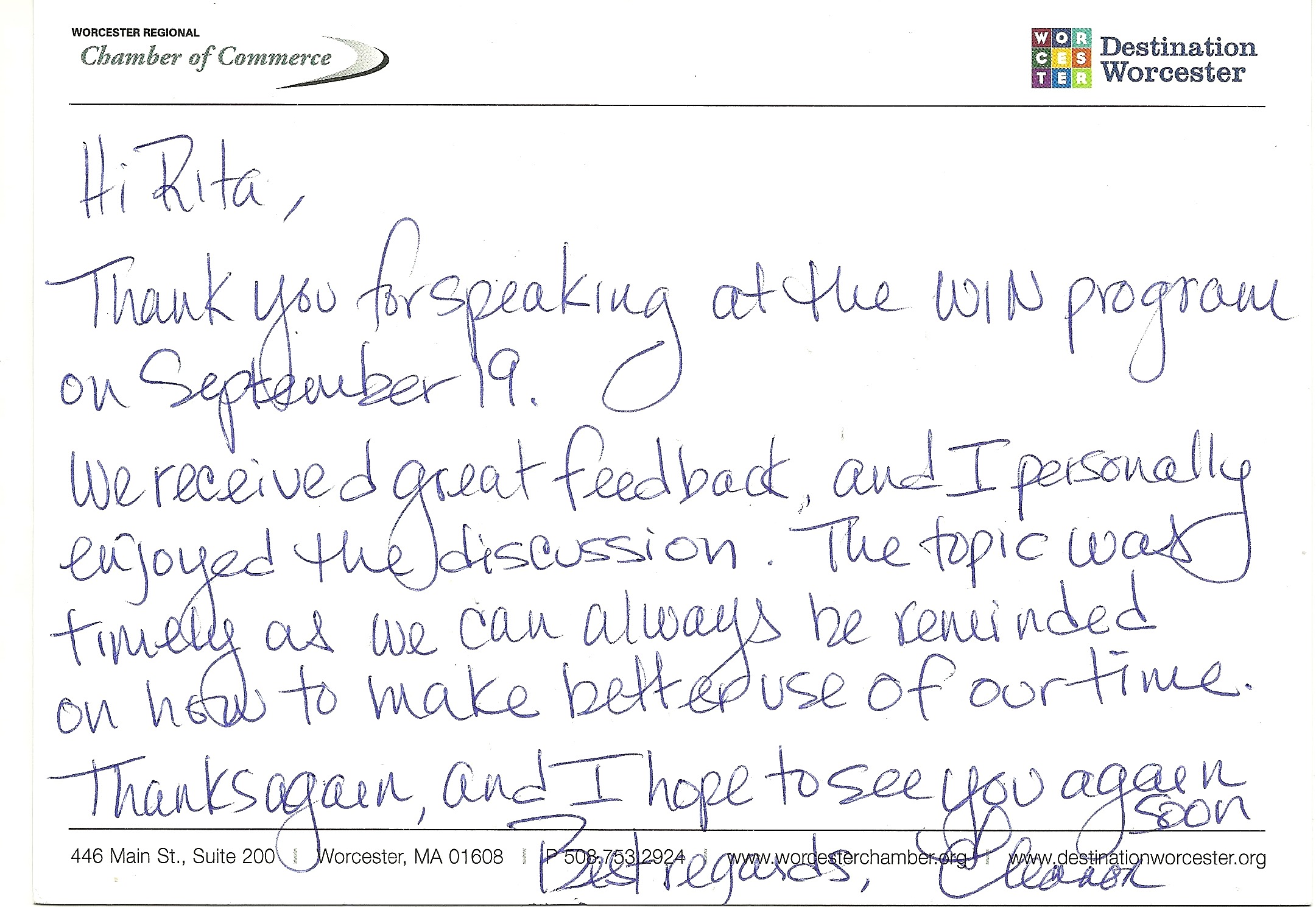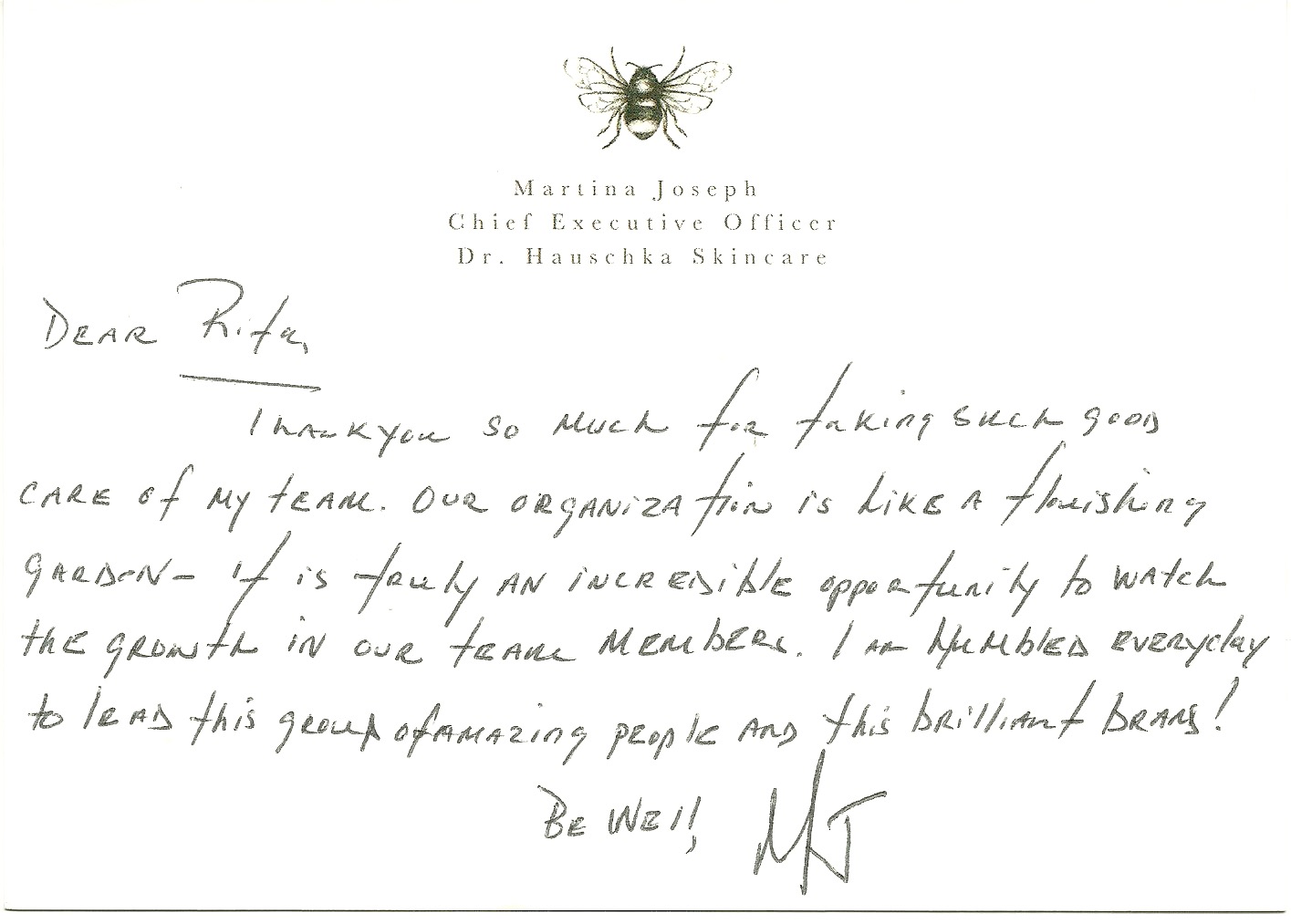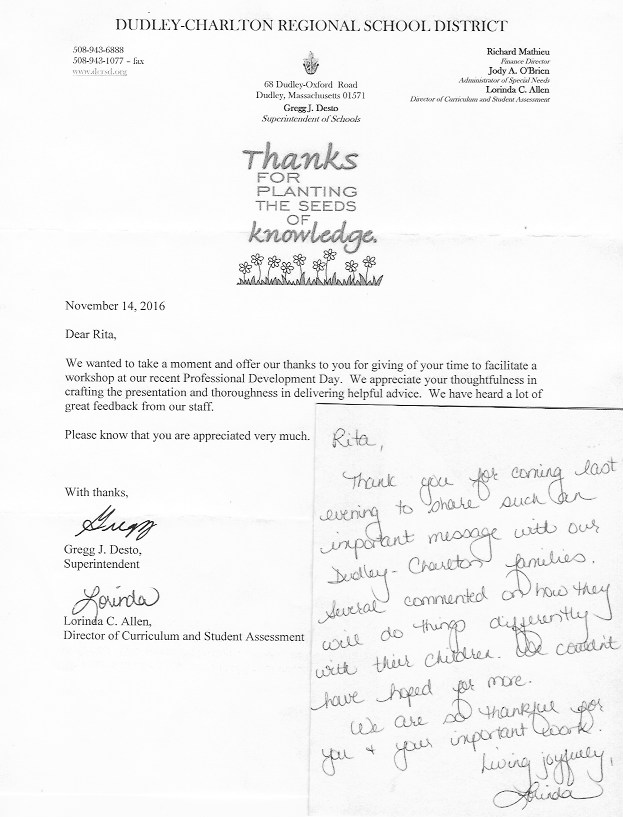 "Good morning, Rita: First off, I'd like to thank you for running such a great brown bag lunch seminar [Surviving Networking]. You provided some great tips for networking, simple yet effective strategies that I'm going to try at the next fun @ 5." ~ Erica O'Brien, L.O., ABO-AC, NCLE-C, Studio 20/20
"Rita Schiano is an excellent facilitator. We appreciated her approach of shaping the two-day professional development and team building based on an initial needs assessment to design a professional development plan appropriate to our needs and expectations. She was engaging and the activities and information was relevant and useful. Our team continues to draw from that two day development experience!" ~  Karen-Louise Rucks, Th.D., Executive Director of Advancement, Quinsigamond Community College
Rita Schiano is a fabulous speaker! She is dynamic, passionate, fun and very engaging.  Her direct delivery of information is refreshing- the audience was very focused and several parents were taking notes!   I could have listened to her speak for hours!!  A few parents later stated that they really enjoyed the opportunity to share concerns and challenges with each other.  Rita has a way of making people comfortable and giving them the confidence to share and ask questions.  Everyone came away with tips to try at home to promote positive changes and to build resiliency in ourselves and our children.  We are hoping to invite her to return for another parent program soon! ~ Lisa Meunier RN, M.Ed   Burgess Elementary School Nurse
"Hi Rita ... Just a quick note to thank you for presenting to our membership yesterday. Your Keynote presentation was well received by all in attendance; you hit upon some critical issues impacting our membership and provided them with practical and useful information on how to appropriately address the multiple facets of being a successful leader and how to develop a successful leadership team. On behalf of the ASE Executive Director, Carla Jentz, our Executive Board President, Julianna Hanscom and the Executive Board of the MA Administrators for Special Education, thank you for doing such a great job yesterday.  We hope that we can work together again in the future." ~ Dr. Ed Nazzaro, Special Project Consultant MA Administrators of Special Education
(Change Your Habitudes 2.0 Workshop, April 2018) "Opened my eyes for my future projects. Very interesting and informative." Joan Campanale, Attendee
"Rita was fabulous! I was so impressed with her and enjoyed the whole presentation [National Association of Professional Organizers - New England]. She was engaging, funny and so insightful. I really appreciated her thoughtful approach and vast knowledge of her subject matter (and all her very appropriate stories) . . . . I gained so much from the presentation last night!" Julie Sheridan, design 2 order LLC
(Change Your Habitudes, Change Your Life Workshop, October 2017) "I thoroughly enjoyed this workshop and highly recommend it to anyone feeling stuck or ready to make changes in their life. . . . The genuineness of presentation; [Rita's] passion and energy is inspiring." Kristina LeDuc
(Change Your Habitudes, Change Your Life Workshop, June 2017) "I really enjoyed the entire day, and got so many amazing insights from the program. It is rare that you have the time - or make the commitment - to doing something completely for you. This program made a big impact by combining the science and emotion of habits with the great interactive exercises to really imprint the teaching of the day." ~ C.T.
(Change Your Habitudes, Change Your Life Workshop, June 2017) "I believe that this program can bring help and healing to so many lives. I would love to see men take this course, as it would benefit anyone to attain wellness and wholeness in all aspects of one's life. Thank you for a great day." ~ Debra Seaman
(Change Your Habitudes, Change Your Life Workshop, June 2017) "Great transformational program. Real 'take home' skills will make a difference in the way I approach life and change habits that don't serve me. Thanks for an amazing experience, and full of humor, too!!!" ~ L.J. S.
(Change Your Habitudes 2.0 Workshop, April 2018) "Rita is a gifted speaker with a heart for helping others in their growth process. Her focus on personal fulfillment as a worthwhile goal is refreshing." ~ Laurie Nelson, Attendee
"Rita . . .  It was wonderful to have you here with us also. It was truly a pleasure and personally I am amazed how you managed to put all that together for this presentation. I did not know what to expect honestly, but you came through in a very special way and you hit the nail on the head …." ~ Andy Panayiotou, Director, Dudley Charlton Regional School District.
"On behalf of Suzanne and myself, thank you immensely for a great session last weekend at the Family Leadership Training Institute. Our participants got so much out of your presentation. And, I must say, we love the hearty laughs you inspire and the wonderful style you share with us. It was great!" ~ Linda Freeman, Executive Office of Health and Human Services, Commonwealth of Massachusetts
(Change Your Habitudes 2.0 Workshop, April 2018) " [I learned] how to change long held habits . . . a great presentation!" ~ Marcia Frangiosa
"Thank you very much for hosting you Live A Flourishing Life Stress Management Workshop at the Sunderland Public Library. . .  The personal and intimate nature of your workshop truly allowed our patrons to get to the root causes of their stress and learn techniques to reduce stress that they could begin using immediately. I appreciate your willingness to host your program for our small crowd, and the enthusiasm and care you showed." ~ Katherine Hand, Library Director, Sunderland Public Library
The best hour of my day Saturday... Rita was personal, funny and human... No... I am not perfect but I can be happy with being excellent... Can't wait for your "Time Management Workshop." ~ Linda Kurowski, Holyoke Public Library
"Rita, the Empowering Women in Business Conference committee would like to thank you for presenting at the 2016 conference. Your willingness to share your expertise with other women truly fits into our mission of providing "women with the dynamic opportunity to advance their career, grow their business, or help map their future by pursuing professional development within a welcoming environment of career-focused women leaders." Thank you for being one of those "career-focused women leaders." Here is the feedback we received.
I thoroughly enjoy listening to Rita, no matter the topic. She is smart, engaging and relevant.

Rita is awesome! I am truly inspired by Rita, adore her! =)

Great presenter! I liked the breakdown of the process, doable strategies for change

Rita is fun, resourceful and honest.

Rita is organized and energetic made it successful - no improvement needed.

I heard this speaker [Rita] before. I always take away something new.

Excellent session by Rita Schiano. Can't wait to look her up on the web.

Rita Schiano was perfect. Please invite her back.

Rita was a very engaging speaker and provided much valuable advice. Great job!

The content was very relevant where I am right now in my career and gave me a positive push in the right direction.

Effectively delivered her message. Made us think; reflect; encourage mindfulness and gratitude. Thank you!

Her humility! Spirit is awesome!
Last week we had Rita Schiano present "Living a Less Stressful, More Fruitful Life." Rita is the author of "Live a Flourishing Life," and "Painting the Invisible Man." She teaches at Bay Path University, and has been a successful motivational speaker and community activist for many years. We had a small audience, and Rita was very personal with advice on reducing and handling stress. She was friendly, completely prepared, and the audience responded quite well to her message. I am highly recommending her to all libraries. ~ Deborah Shields, Lunenburg Public Library
"Thank you!" for your wonderful presentation at the Milford Area Chamber Women's Group. Your message really moved and inspired me -- just wanted to you to know how much I appreciated it!" Lori Sousa, New Hope, Inc.
"Thank you so very much for being part of our Family Leadership Training Institute. Once again, and not surprisingly, our participants raved about your presentation. We heard from them over and over that a highlight of the weekend was your session on stress management and resilience. You are such a fun and engaging presenter!" ~ Linda Freeman, Executive Office of Health and Human Services, Commonwealth of Massachusetts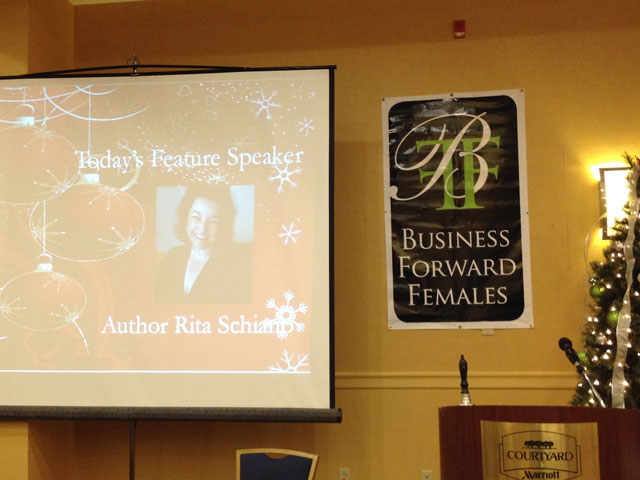 "Rita, thank you for your motivational presentation to Business Forward Females of Corridor Nine. Your message on  the value of a positive attitude was educational, humorous, and enthusiastic! We all left that day feeling inspired and  wanting to share that positivity with colleagues, friends, and family members. ~ Karen Chapman, President, Corridor Nine Area Chamber of Commerce
"I knew that Rita was a great choice, but last night she surpassed my expectations. [She] did an amazing job and so many people were singing [her] praises even before the evening was over." ~ Margo Chevers, Tri-Town Domestic Violence Task Force, "Dancing With Stars" Event Coordinator
"Rita's presentation to our parents on 'Kids and Stress' was very well-received. Rita helped them be able to identify stress triggers in their children, but more importantly provided very simple strategies to reduce them and be proactive in preventing them when they could. In these times when school budgets are tight, this was money very well spent! We are looking forward to having her back again!" ~ Lorinda C. Allen, Director of Curriculum & Student Assessment, Dudley-Charlton Regional School District
(Change Your Habitudes, Change Your Life Workshop, October 2017) "I have a better understanding of how I own my habitudes. Acknowledging their origin and my role in developing them and sustaining them brought me to the realization that I can amend them." Kelly Snell
"Thank you so much for all your help last night. It was just what we all needed. The staff was very impressed with your presentation. I look forward to working with you again in the future." ~ Lynn Zukas, Zukas Hilltop Barn
Comments from the "Empowering Women in Business Conference," Nichols College, 2014
Wonderful presentation style!! [Rita] was so realistic and relatable. . .

She shared personal stories that I could relate to. She reached everybody in the room no matter what age. . .

Rita is a candid & engaging presenter-- connects with the audience . . . She knows her stuff!! . . .

Rita started off with a great question: how many of you saw this and was happy to want to go there? I saw stress managing and knew I had to go there. A great tip was to take 10 breaths and reduce stress. It's so awesome to hear everyone agree on stress and examples that Rita used.

So happy that she came to the women's conference. So happy that I chose to go to her workshop. I would recommend her to come again . . .

Wow, an awesome speaker and I loved her! :)

So happy that she came to the women's conference. So happy that I chose to go to her workshop. I would recommend her to come again!"
"It was my great delight and pleasure to have Rita Schiano come to our facility recently and offer an evening of "Managing Stress Through Resilience" to our community of women. The presentation was informative, practical and "real".  Rita brings a warm, knowledgeable, accessible, and humorous presence and make the information so easy to grasp. Many of the attendees said they experienced an "Aha!" moment or several and went home with tools to help them live more flourishing lives. We are so looking forward to having Rita return in the near future.  ~ Merry Cole, Founder and Executive Director, True North Holistic Center and Retreat House, Hubbardston, MA
"Rita came to us at a time of great upheaval, when we needed a new approach in overcoming our stress. Rita spoke for 1 hour (we wish it had been all day!) and was powerful in her insights and advice. She made me laugh and she made me cry. Because she helped me to see my situation in a new way, I was able to clarify my thoughts and make the best decision for my future. I look forward to working with Rita individually and highly recommend her to others who need help or want to move forward in their careers or personal lives. Rita is a gem and a joy to be around." ~Janet M. Zafiris Executive Assistant, Office of Administration, New England Primate Research Center, Harvard Medical School
"Rita was wonderful. The families loved her and her information. When she heard who they all were and what they faced she shifted gears somewhat and on the spot tailored the presentation to meet their needs. Linda and I were both very impressed by Rita's knowledge, presentation skills and overall kindness." Suzanne Gottlieb, MA Department of Public Health
"Rita came out and spoke to a group of clients at our Spring Friends and Family Night for our Financial Advisory Firm. She was funny, engaging, and enthusiastic. Every one of the 30 plus clients in attendance made an effort to thank us for bringing in Rita to share her thoughts and her story. This thanks from our clients was the greatest compliment we could receive. We couldn't have been happier to have her in front of our best clients to help bring immense value to our practice." ~ Joshua Farmer, Brookstone Wealth Management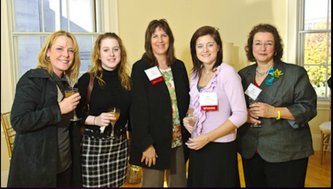 "Thank you for agreeing to be our keynote speaker for our Outstanding Women in Business event. Your speech far exceeded our expectations today, and I truly appreciate the wonderful job that you did. I heard many wonderful comments about you from the attendee's after the event. It was a pleasure to meet you and I hope to work with you again sometime!" ~ Kris Prosser, Events & Marketing Manager, Worcester Business Journal
Rita Schiano brings so much more than a lecture or speech to her audiences. Dress for Success Worcester refers back to Rita again and again when in need of a volunteer speaker not only for her diverse subject matter but because of what she brings to each address. Rita knows her audience, engages her audience and time after time leaves her audience feeling empowered, confident and ready to flourish! Our clients pack the room when they hear Rita is going to speak. We at Dress for Success Worcester are honored every time Rita says "Yes! I will speak at your engagement." We can't say enough great things about what Rita has done for our clients and the staff at Dress for Success Worcester. Here are some comments from our clients. ~ Veronica Hachey, Program Director, Dress for Success Worcester
Rita is so inspiring!

I am looking forward to the next time Rita speaks.

She gave me the tools and confidence to make positive changes in my life.

I love Rita; she has such an amazing presence.

The first time we met, I felt like I was sitting and talking with a lifelong friend.
On behalf of WorkTerrain, a corporate training company, Rita Schiano provides corporate training programs to employees on Managing Stress and Building Resilience. Rita consistently provides very informative and interactive training sessions. The audience evaluations rate Rita's training style in very high regard. She presents the information clearly and relates it to the audience, thereby providing "take-aways" that participants can use in work and home life. Rita's training style combines the best of informative and interactive training, resulting in meeting corporate and employee training needs. It is a pleasure working with Rita Schiano." ~ Rena Hannaford, CEO, WorkTerrain
What was most helpful in the presentation was gaining an awareness of what is going on in the body and the ability we have to control it. I thought every piece of the presentation was very helpful. I am so glad I attended. ~ Nancy DiBonaventura, Harrington Hospital
[The presentation] made me think about my ideas that I have carried with me and challenge them. Rita was a great presenter, very knowledgeable and kept it fun! ~ Melissa Blomberg, Harrington Hospital
Rita is a very good speaker / presenter. . . . Her down to earth manner makes you feel comfortable. . . . The workshop was very well presented, very well articulated and easy to process. Rita's attitude is positive and caring, essential for team building and conflict resolution. ~ Staff comments, Southbridge Credit Union
Great workshop! A simple, easy-going, relatable pace. Excellent speaker. She kept your attention and was very personable.~ Attendee
Flourish! I love that word. I attended Rita Schiano's seminar, Live a Flourishing Life and had to write and send my heartfelt thanks to her as well as to the promoters of the Natural Living Expo who organized this year's exciting program in Sturbridge. When I saw the title of her seminar in the program I knew I had to go and am I glad I did.
Of all the seminars I went to at this year's Expo, Ms. Schiano's was the most motivating for me. It was also the most entertaining. Ms. Schiano is a very accomplished speaker and her warmth and humor came through to the audience along with her easy-to-understand message - Relax and Flourish! In a short period of time she gave us some simple ways to combat unnecessary stress that I could put into practice right then and there. I got a copy of her book and CD and those are very helpful too. Thank you for sharing your wisdom, Rita! I hope to see you at next year's Expo. Relax and Flourish!~ Judy Pote, Natural Living Expo attendee
In our line of work it is absolutely necessary due to our crisis interventions. This was very helpful. Thank you!
Excellent training. Well set up and lots of interaction. We should have this workshop 2 times a year. I learned a lot from Rita today. ~ Attendee, Family Health Center
I think everyone on this planet needs this program! ~ Attendee
Prof. Schiano is an intelligent, gifted teacher. Her concern for the students well being in offering such a class came across in each session. Prof. Schiano was attempting to allow us to find within us what is keeping us from the "virtuous life" (Aristotle!) and to try to locate the mean in our daily lives so we can flourish. All of this was relayed in a way that was accessible and achievable from the beginning. Absolutely brilliant, informative, and so necessary in our modern times. ~ Bay Path College student
Rita is wonderful. She has a way of explaining things and guiding us to understanding by using real-life examples we can grasp. ~ Private program attendee
[What I found most helpful was] Rita's ability to touch on the stressors in everyone's life; she also has the ability to touch our souls. Her relaxation technique was great! ~ M.L.F, Harrington Hospital program attendee
[Rita is] excellent. Held my interest from start to finish. ~ Harrington Hospital program attendee
I attended Rita Schiano's session, Live a Flourishing Life, at the Natural Living Expo this past weekend and was riveted with this presentation. She pulled together a variety of information from ancient philosophers to recent studies and wove them together into an informative session on stress and anxiety. Most importantly though, she gave us practical tools to identify and respond to stress to achieve lifelong resilience to its damaging effects. Rita's comprehensive knowledge and excellent public speaking ability, laced with splashes of humor and personal experiences, made for an excellent and informative session. Now I can't wait to read her book and possibly attend one of her extended workshops. ~ J.C, Natural Living Expo
The program was beneficial and made me really look at myself and how to handle my own stress. ~ Private program attendee
I found the Stress Management Training extremely interactive and useful. The presentation of the material was stress free and the presented really encouraged people to engage in expressing how stress affects them and to feel comfortable relating to the discussion in an extremely comfortable manner. She presented a stress reduction technique with the participants which was so appropriate for me that I believe I was hypnotized at one point. Rita's voice was even soothing. I left the training with "food for thought" as well as tools that I could and do employ when in situations where I need to manage stress. I appreciated the opportunity to attend this training.~ Attendee
This course helped to identify areas of improvement and gave me guidance on how to develop my own personalized plan for resilience. Further, this course helped me gain knowledge to promote these skills with the girls I work with. ~ Bay Path College student
Rita held my attention and made information interesting, helpful and doable. I have had stress management techniques, etc., but Rita offered different information. Great to "relearn" and view in a different perspective.
Rita's ability to make sure everyone had a chance to speak, and recognized the participants importance when speaking.
I thought the whole training was very good. I loved it. Useful in every situation in life.
Very thought-provoking. Rita taught me how to awaken positive traits I see in myself or have exhibited in the past. Will help me manage current and future stressors. I can use my knowledge to help others in the future. ~ Bay Path College student
Rita's soothing voice and demeanor made the workshop very enjoyable. She has a great handle on the information and stress-reducing tactics.~ Attendee
*Note: Comments listed without names were culled from evaluation sheets from private contracts.